Warren Buffett Quotes
Welcome to Warren Buffett Quotes. This site was created for everyone who wants to invest like Warren Buffett – it is the #1 source of quotes, videos and speeches from this great investor, carefully compiled over many years of research.
Warren Buffett is also known as the 'Oracle of Omaha', and is widely heralded as one of the greatest investors in the world. He is down-to-earth, swears by Coke and loves playing the ukulele. He has pledged to give a large portion of his wealth away through the Bill and Melinda Gates Foundation.
Warren Buffett was once the richest person on the planet – in March of 2008, he had a fortune of $62 billion. He has since been overtaken by Bill Gates yet again, but he consistently remains one of the richest men in the world. Much has been written and spoken about him – this site is an attempt to archive and categorize some of that wealth of information, particularly for the reader who wants to learn more about Warren Buffett and about value investing. He has been interviewed on many occasions, and has had many books written about him, though he has not written any book himself. Nonetheless, his own writings can be found in such sources as the annual Berkshire Hathaway Shareholder Letters that are publicly published on the Berkshire Hathaway website.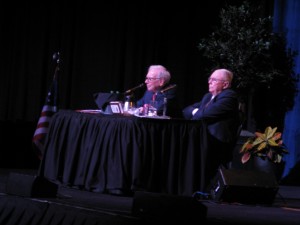 Warren speaks and writes with dry humor and great clarity. He has an incredible ability to simplify complicated concepts into terms the layman can easily understand.
Quotes from Warren Buffett also chart America's financial history. For example, during the 2008 Financial Crisis, Warren played an important role in stabilizing financial markets with his investments in Goldman Sachs and General Electric. One of his quotes from that time depicts how close the entire economy might have been to the abyss – in an Op Ed piece in The New York Times published in November 17, 2010, he remarked that during that time, many of America's largest companies were weeks away from completing spending their available cash – these dominoes were lined up and ready to topple at terrifying speed.